Shopping Basket
Your Basket is Empty
There was an error with PayPal
Click here to try again
Thank you for your business!
You should receive an order confirmation from Paypal shortly.
Exit Shopping Basket
A mix of stories and encouters with everything running related. 
I'm not even sure how or when I met Tobi!! But, I'm certain it had some ties to running
 She's currently hosting a walk to run clinic/event! I thought what a perfect opportunity for her to tell her story and help get the word out. It's really awesome to see someone inspire the community and get people on their journey to enjoy and love running,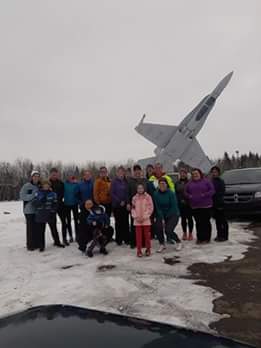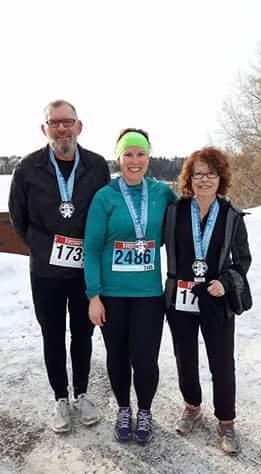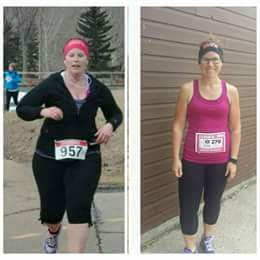 What drove you to host and organize the walk to run group?
I learned to run from the Running Room clinic in Edmonton. The slow steady progression of the clinic made it really easy to start running. I have had so many friends ask me how I started, and that they want to learn to run and finish a race. I never pictured myself as a runner. I was the overweight child that HATED gym class and begged my mother to write me a note, so I didn't have to go. So when I started running and realizing that I CAN do this, it definitely empowered me. Once I started participating in organized races, I was hooked. Running has definitely changed me as a person both mentally and physically. I fell in love with the running community. We have an amazing running community in Cold Lake which I am slowly getting more involved with. We also have a lot of AMAZING fast runners here in Cold Lake. So I decided to start a group for beginner runners. Where we are all starting and learning together. My goal is to get a group of people to finish one of the local 5 km races. And hopefully help them to find a new love in the life... Running.
Tell us a bit about the group:
We are starting at run 1 minute walk 1 minute, and will increase the run 1 minute per week. Always having a 1 minute walk break. We will work our way up to running 10 minutes, and walking 1. And then we will work on distance from there. I have completed 1/2 marathons running 10 min walking 1.
What or who inspired you to start to run and begin your journey?
My parents actually inspired me to start running. They joined the Running Room and started running and worked their way up to completing a half marathon. I thought, if they can do this, why can't I? So, a year after having my twins I decided I was going to run and bought a chariot and started running on a dirt road behind my house. I then moved to Edmonton and joined a learn to run clinic with my best friend and we did the Santa shuffle. I finished the 5 km in 39 minutes.... and felt like I was going to die! And now I'm training for a full marathon!
What's your favorite time of day to run?
In an ideal world I would run shortly after breakfast. But I work full time and have 3 kids in activities, so I usually run on treadmill about 9pm at night. But my ideal time would be a morning run in the summer time.
Solo or pack runner?
I enjoy running in a group. But I do most of my training solo. I find I struggle to keep up to people and I try to have a conversation while running which I find difficult. So if it's just a slow run I'll take a group, but if I'm pushing for time I perform much better solo. How many times on average week do you head out for a run? I try to run 3- 4 times a week right now since I am currently training for my first full marathon.
What gets you out the door?
The peace and quiet. The time I can just think, or not think at all. It's my break away from everything and a huge stress reliever. Favorite running athlete and why? My favorite athletes are the ones who finish last. The ones who are out their struggling giving it their all and trying something new. I think because I have been there before and I truly believe if I can do it, anyone can do it! But at the same time I am so envious of the fast runners the elite runners. My favorite part of the big races are watching the elite runners run! It's amazing watching them.
Anything else you would love to tell us?
I have learned so much on my journey as a runner. I have grown mentally stronger as well as physically stronger. When you realize what you are capable of doing physically because you have a strong mind it changes your life. For me running is definitely a passion has been a huge part of who I am today. I hope to inspire people so they can feel strong and healthy. The running community is full of such great people, I hope to help this community grow.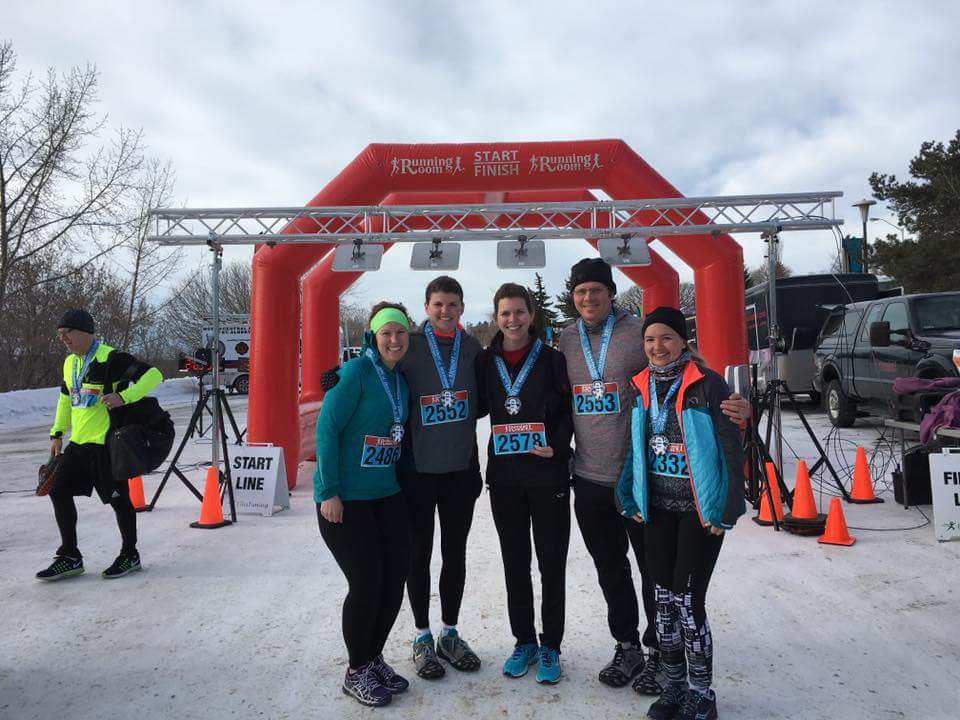 This is one of the few road races I compete in each year. I love the anticipation of the weather, the brunch after is amazing, a small crew from Cold Lake Rum Runners usually competes and the race goodies are pretty awesome. I'll have to remember to take a photo of the breakfast next year .
The event takes place all over the country, but there are two dates in Edmonton always at the Highlands Golf Course, usually about two weeks apart in February. Picking up the race package is a breeze and you can grab all your friends' packages too, to save them time and the urge to shop at the Running Room on 109th Street. Luckily, I had to be somewhere at noon, so I wouldn't be tempted to buy a ton of running apparel, I really didn't need. The weather was perfect this year, it was just a little below freezing and the ground was still hard packed and there were not many slippery spots. Parking is an issue usually so, I tried to show up a little early and parked a few blocks away and walked to the start. The washrooms for the ladies is always really busy, so if you can get that business done elsewhere it will be better!! Men's washroom usually aren't too bad, yes...I pay attention to the details....
There is water provided on the course, which you will pass by 4 times if you are running the half marathon distance. Volunteers line the streets to direct you and there is never confusion on where you should be headed. If you aren't a watch person, there are km markers along the way. This is a loop course, so you will be doing two loops to finish. If you are running with friends it's nice because depending on your pace you will pass by each other several times and it gives you some time to cheer each other on. The course is very flat, so there is no issue with hills, if you aren't into that type of suffering.
This year, I decided not to look at my watch and let it pressure me. So, I flipped it over and ran by feel and it was great to take away that element of time and just focus on what my body was doing. My aim was under 1:50 as I had run in 1:56 the previous year and would feel comfortable with that number. I finished in 1:46 and worked hard to get there, I wouldn't be able to say if I had much more in the tank to push harder. But, I felt joy the entire time I was running and just made the smile a little bigger when I started to hurt and it seemed to help. If you haven't tried it out, you should!! There is a 5km and 10km option and it's a great way to motivate you to run through the season and stay in shape.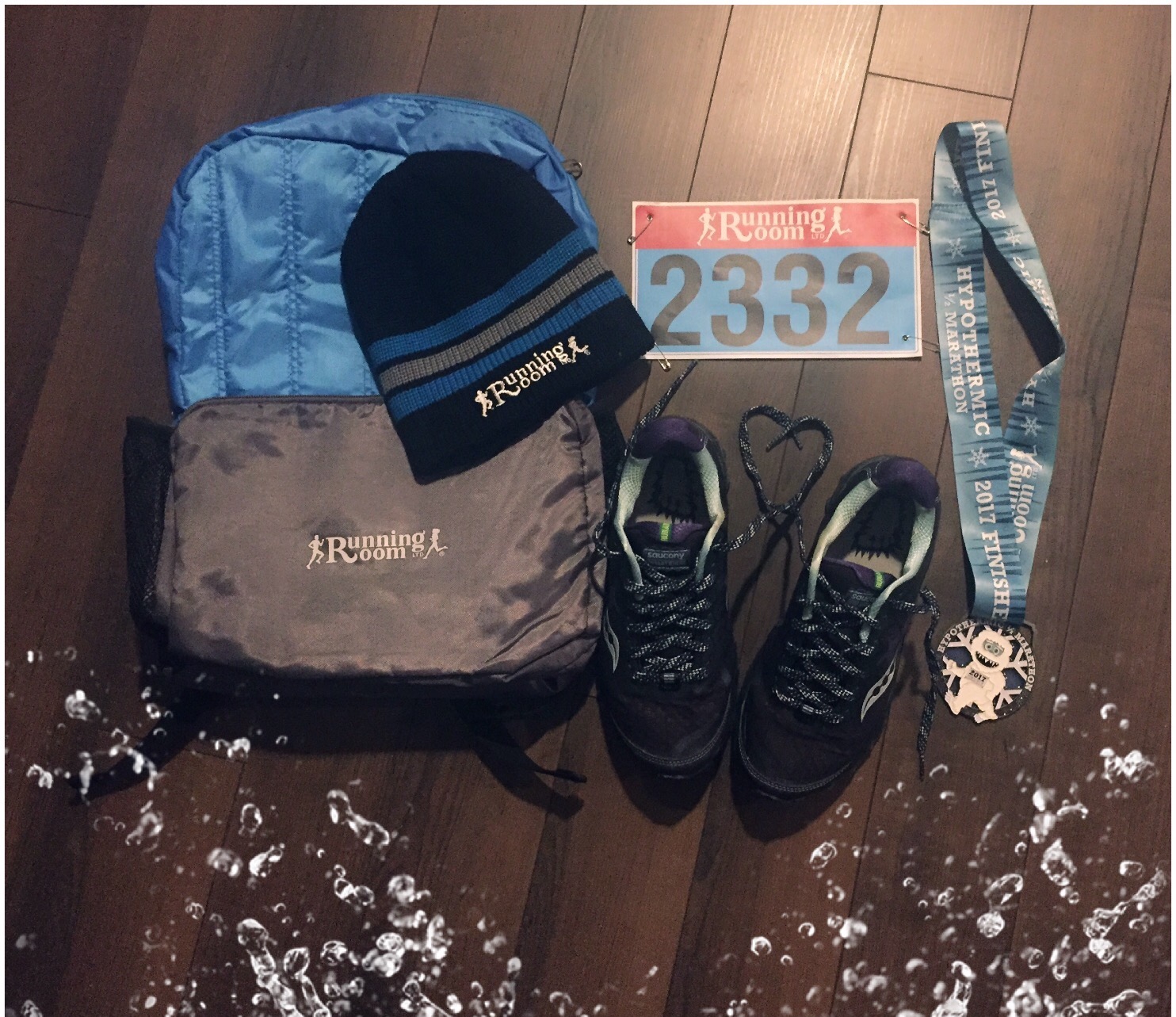 The beat of your local feet: Terry Kaminski
Even though I had said I would choose a random runner to feature each month I chose Terry Kaminski as the first feature. As some of you may or may not know, he was my High School cross country coach. Terry introduced me to trail running and the competition of cross country. I don't know where I would be today without trail running in my life, so I thought it was only fitting we start here.
1. How did you start running and why?
I always liked to run and ride my bike as a kid. In elementary school we lived about 2 blocks from the school and I would always race my brother home at lunch and after school. Most of my running at a young age was fairly short. They only had the 100m sprint when I was in elementary school. I always finished 1st or 2nd in those races. Then in Gr.7, we were able to run cross country at school. I went out for the cross country team because I liked to run and usually did well at it. At our first practice, the coach explained the trails we were going to run. It was a 3 km loop. I had never run that far in my life. All of us took off running. Some of the trail was flat and there were a few small hills as well. The trails were mostly in a valley below our Jr. High in Estevan, Saskatchewan. The coach could watch us all run and yell at us from the top of the valley. I ended up beating every one that first day of practice. Not bad for a Gr.7 running against Gr.8's and Gr.9's. The coach asked me at the end of the run if I could have run farther or faster. I said, "Yes". He said which one, farther or faster. I said "Both!!!".
After a few more practices, I came to the realization that cross country and running longer distances was something I was quite good at. Some of the older kids even said to me, "you are really good!". This was 1980-81. I have run ever since then and hope I am able to run for many more years to come.
2. What is your favorite distance to run?
My favorite time of the year to run is the fall. I love running on the trails during the cross country season. So, my favorite distances are anything from 5 km to 10 km.
3. What is your proudest moment in running?
There have been many memorable moments for me in running. I would say that my proudest moment was winning the 800m city championships in Regina, Saskatchewan in 1986. There were many really good runners in Regina at that time and it took a perfect combination of training and tactics to win a city championship at that time.
4. What is your favourite running event?
My favorite running event is the Kananaskis 100 mile relay held every year in June in Kananaskis country outside of Calgary. The reason I like this race is that teams of runners have to work together to cover the 100 mile distance. Depending on my training and fitness, some years I would run a longer leg and other years a shorter leg. It is nice to see everyone from teenagers to people in their 60's competing in this race. I have not run this race for probably 10 years but loved every year I ran on a team in that race.
5. Do you have any running goals for this season?
When I was younger, I used to have training and racing goals every year. The past few years, I mostly run for fun and enjoyment. I do not need the motivation of having a race planned to get me out the door to train. I run because it makes me feel good.
The past few years, I have run the 10 km at the 4 Wing Community Run. Thanks to Matt Setlack for organizing this local race. Each year my goal has been to run a little faster than the year before and beat a couple of people around my age. There still is a little bit of competitive drive left in these old bones!!! LOL
6. If you had to give one piece of advice to other runners what would it be?
One piece of advice I have for every runner is that it does not matter how fast everyone else is running. Running is about competing against yourself. No matter how young or old you are every day you are able to run is a good day.
What brought me on this mad chase to finish 160km, through some of western Canada's toughest mountain trails....? A strong love for the majestic mountains and surrounding beauty, a need to find my body's limit, an electric crowd, a love for running and a stubbornness to finish what I started a few years back.
As I trotted off onto leg one I had to catch myself constantly to slow down, reminding myself that I had many hours left in the day. In addition, many of the people were running one leg or two and had a little more energy to spare. I started my eating and drinking schedule right off the hop...gulp of water every 10 minutes and eating at least 150 calories every 30 minutes. GU was my food of choice, because it had worked well in my training. The start of the race is not intimidating with easy rolling roads and trails. So, it's easy to get carried away racing the trails, if you have a competitive spirit.
I remembered leg two being an unrelenting climb the entire way. So, I packed my poles along for the journey. But, it wasn't nearly as horrible as I remembered, breathing was easy, the mountains were still achievable. The single track at the end was intense, but manageable when dry. This leg was a little bit of a confidence booster as I pushed through the 16.5km about an hour quicker than I had before.
I ran into my cousin Joanne at the start of leg three! This was another leg with insane amount of climbing. It was so nice to catch up and she slowed down for me for the first couple miles. I told her to continue on because I knew she was a strong runner and didn't want to hold her back. As other runners ran by, I babbled to whomever would listen to keep the ramblings of my mind quiet. Leg 3 was done before I even had time to start complaining.
Leg 4 & 5, are honestly a blur in my mind. I had found Georgie Islap and we ran together most of the way, it's so wonderful to find good company on the trail. We talked when we could and moaned and grunted up and down the crazy trails. The pictures really don't make the trails seem as crazy as they are...you'll have to come out as see for yourself! You can see Georgie and I in some of the photos, smiling trotting along on the trails.
My watch died on leg 4, so it was hard to stay on schedule with food and drink. But, luckily I had Jason at each aid station, so he would charge it for me and I could have it for the start of leg 6. I lost Georgie out on leg 5 somewhere....
At leg six, I decided finally to change my shoes, which in the end was a mistake because I didn't realize the they had a hole in them. This hole collected rocks and sand, which battered my feet. I went off onto that trail walking. it was pitch black 1:00am and I was cold and a little tired. There are a lot of water crossings and mud holes on this leg. So, I made myself a deal I could walk to the summit of the mountain. In the dark of the night, I met Donny Stone. The gentleman who has a viral video of a cougar trying to attack him in Wildwood, Alberta and he defends himself with bear spray!!! Wowza!! ( https://www.youtube.com/watch?v=YvzOBrzGpYw ) Nonetheless, Donny stayed with me and pushed me to the summit, once again a passer by who helped make the race much more enjoyable. The miles are so much better with company, especially in the night. At the summit Donny carried on ahead and I was alone in the dark. Which surprisingly wasn't too scary....I cranked my motivational speeches, with my speakers clipped to my hat and carried on my eating, drinking and jogging routine. It was rough going through the dark of the night... I told myself if a cougar came to eat me it could just have this beaten up piece of meat, because my fight was all being concentrated on the trail. When daylight hit it started to warm a little, it was such a relief to be able to see the trail, so I pushed with what I had left.
As I came into the transition to 7 I was hurting. I knew the push to the finish was going to be brutal, but come hell or high water it was getting done. I didn't dare take off my shoes and look at my feet, I grabbed my food from Jason and continued on. It was honestly the worst or I should say hardest 10km of my life...a slow crawl at most and the trail was insane on some parts lifting my legs over the rocks was next to impossible. After 3 horrible hours I finished that last leg with nothing in the tank, but some gratitude and sense of accomplishment.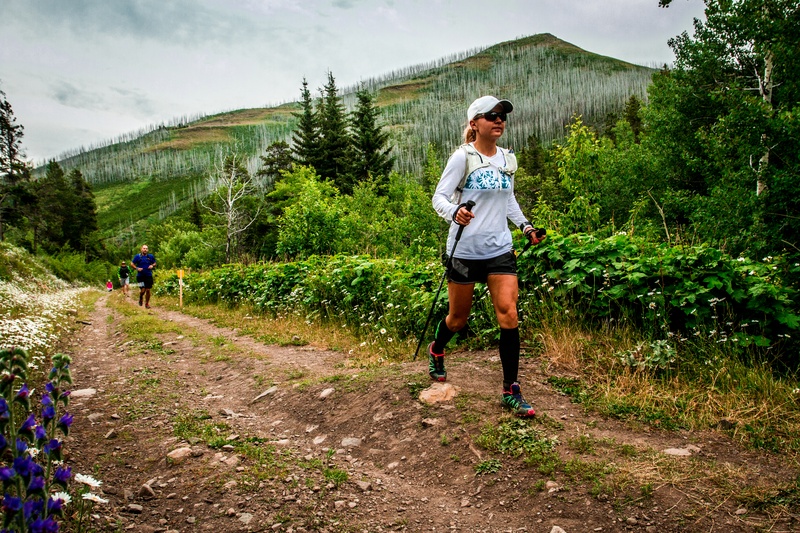 0

/