Shopping Basket
Your Basket is Empty
There was an error with PayPal
Click here to try again
Thank you for your business!
You should receive an order confirmation from Paypal shortly.
Exit Shopping Basket
| | |
| --- | --- |
| Posted on 31 March, 2017 at 15:15 | |
I'm not even sure how or when I met Tobi!! But, I'm certain it had some ties to running
 She's currently hosting a walk to run clinic/event! I thought what a perfect opportunity for her to tell her story and help get the word out. It's really awesome to see someone inspire the community and get people on their journey to enjoy and love running,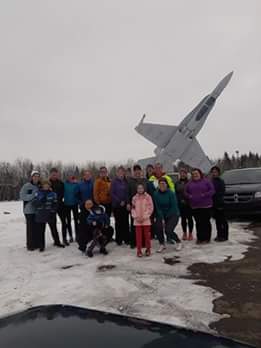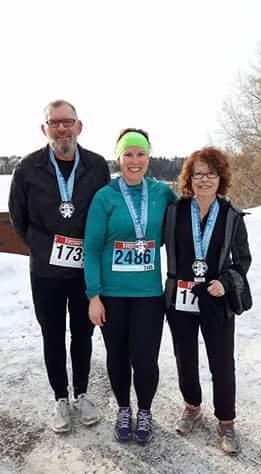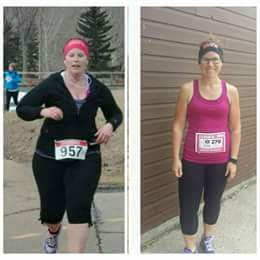 What drove you to host and organize the walk to run group?
I learned to run from the Running Room clinic in Edmonton. The slow steady progression of the clinic made it really easy to start running. I have had so many friends ask me how I started, and that they want to learn to run and finish a race. I never pictured myself as a runner. I was the overweight child that HATED gym class and begged my mother to write me a note, so I didn't have to go. So when I started running and realizing that I CAN do this, it definitely empowered me. Once I started participating in organized races, I was hooked. Running has definitely changed me as a person both mentally and physically. I fell in love with the running community. We have an amazing running community in Cold Lake which I am slowly getting more involved with. We also have a lot of AMAZING fast runners here in Cold Lake. So I decided to start a group for beginner runners. Where we are all starting and learning together. My goal is to get a group of people to finish one of the local 5 km races. And hopefully help them to find a new love in the life... Running.
Tell us a bit about the group:
We are starting at run 1 minute walk 1 minute, and will increase the run 1 minute per week. Always having a 1 minute walk break. We will work our way up to running 10 minutes, and walking 1. And then we will work on distance from there. I have completed 1/2 marathons running 10 min walking 1.
What or who inspired you to start to run and begin your journey?
My parents actually inspired me to start running. They joined the Running Room and started running and worked their way up to completing a half marathon. I thought, if they can do this, why can't I? So, a year after having my twins I decided I was going to run and bought a chariot and started running on a dirt road behind my house. I then moved to Edmonton and joined a learn to run clinic with my best friend and we did the Santa shuffle. I finished the 5 km in 39 minutes.... and felt like I was going to die! And now I'm training for a full marathon!
What's your favorite time of day to run?
In an ideal world I would run shortly after breakfast. But I work full time and have 3 kids in activities, so I usually run on treadmill about 9pm at night. But my ideal time would be a morning run in the summer time.
Solo or pack runner?
I enjoy running in a group. But I do most of my training solo. I find I struggle to keep up to people and I try to have a conversation while running which I find difficult. So if it's just a slow run I'll take a group, but if I'm pushing for time I perform much better solo. How many times on average week do you head out for a run? I try to run 3- 4 times a week right now since I am currently training for my first full marathon.
What gets you out the door?
The peace and quiet. The time I can just think, or not think at all. It's my break away from everything and a huge stress reliever. Favorite running athlete and why? My favorite athletes are the ones who finish last. The ones who are out their struggling giving it their all and trying something new. I think because I have been there before and I truly believe if I can do it, anyone can do it! But at the same time I am so envious of the fast runners the elite runners. My favorite part of the big races are watching the elite runners run! It's amazing watching them.
Anything else you would love to tell us?
I have learned so much on my journey as a runner. I have grown mentally stronger as well as physically stronger. When you realize what you are capable of doing physically because you have a strong mind it changes your life. For me running is definitely a passion has been a huge part of who I am today. I hope to inspire people so they can feel strong and healthy. The running community is full of such great people, I hope to help this community grow.
Categories: Beat of Your Local Feet
/