Shopping Basket
Your Basket is Empty
There was an error with PayPal
Click here to try again
Thank you for your business!
You should receive an order confirmation from Paypal shortly.
Exit Shopping Basket
| | |
| --- | --- |
| Posted on 26 August, 2016 at 14:05 | |
What brought me on this mad chase to finish 160km, through some of western Canada's toughest mountain trails....? A strong love for the majestic mountains and surrounding beauty, a need to find my body's limit, an electric crowd, a love for running and a stubbornness to finish what I started a few years back.
As I trotted off onto leg one I had to catch myself constantly to slow down, reminding myself that I had many hours left in the day. In addition, many of the people were running one leg or two and had a little more energy to spare. I started my eating and drinking schedule right off the hop...gulp of water every 10 minutes and eating at least 150 calories every 30 minutes. GU was my food of choice, because it had worked well in my training. The start of the race is not intimidating with easy rolling roads and trails. So, it's easy to get carried away racing the trails, if you have a competitive spirit.
I remembered leg two being an unrelenting climb the entire way. So, I packed my poles along for the journey. But, it wasn't nearly as horrible as I remembered, breathing was easy, the mountains were still achievable. The single track at the end was intense, but manageable when dry. This leg was a little bit of a confidence booster as I pushed through the 16.5km about an hour quicker than I had before.
I ran into my cousin Joanne at the start of leg three! This was another leg with insane amount of climbing. It was so nice to catch up and she slowed down for me for the first couple miles. I told her to continue on because I knew she was a strong runner and didn't want to hold her back. As other runners ran by, I babbled to whomever would listen to keep the ramblings of my mind quiet. Leg 3 was done before I even had time to start complaining.
Leg 4 & 5, are honestly a blur in my mind. I had found Georgie Islap and we ran together most of the way, it's so wonderful to find good company on the trail. We talked when we could and moaned and grunted up and down the crazy trails. The pictures really don't make the trails seem as crazy as they are...you'll have to come out as see for yourself! You can see Georgie and I in some of the photos, smiling trotting along on the trails.
My watch died on leg 4, so it was hard to stay on schedule with food and drink. But, luckily I had Jason at each aid station, so he would charge it for me and I could have it for the start of leg 6. I lost Georgie out on leg 5 somewhere....
At leg six, I decided finally to change my shoes, which in the end was a mistake because I didn't realize the they had a hole in them. This hole collected rocks and sand, which battered my feet. I went off onto that trail walking. it was pitch black 1:00am and I was cold and a little tired. There are a lot of water crossings and mud holes on this leg. So, I made myself a deal I could walk to the summit of the mountain. In the dark of the night, I met Donny Stone. The gentleman who has a viral video of a cougar trying to attack him in Wildwood, Alberta and he defends himself with bear spray!!! Wowza!! ( https://www.youtube.com/watch?v=YvzOBrzGpYw ) Nonetheless, Donny stayed with me and pushed me to the summit, once again a passer by who helped make the race much more enjoyable. The miles are so much better with company, especially in the night. At the summit Donny carried on ahead and I was alone in the dark. Which surprisingly wasn't too scary....I cranked my motivational speeches, with my speakers clipped to my hat and carried on my eating, drinking and jogging routine. It was rough going through the dark of the night... I told myself if a cougar came to eat me it could just have this beaten up piece of meat, because my fight was all being concentrated on the trail. When daylight hit it started to warm a little, it was such a relief to be able to see the trail, so I pushed with what I had left.
As I came into the transition to 7 I was hurting. I knew the push to the finish was going to be brutal, but come hell or high water it was getting done. I didn't dare take off my shoes and look at my feet, I grabbed my food from Jason and continued on. It was honestly the worst or I should say hardest 10km of my life...a slow crawl at most and the trail was insane on some parts lifting my legs over the rocks was next to impossible. After 3 horrible hours I finished that last leg with nothing in the tank, but some gratitude and sense of accomplishment.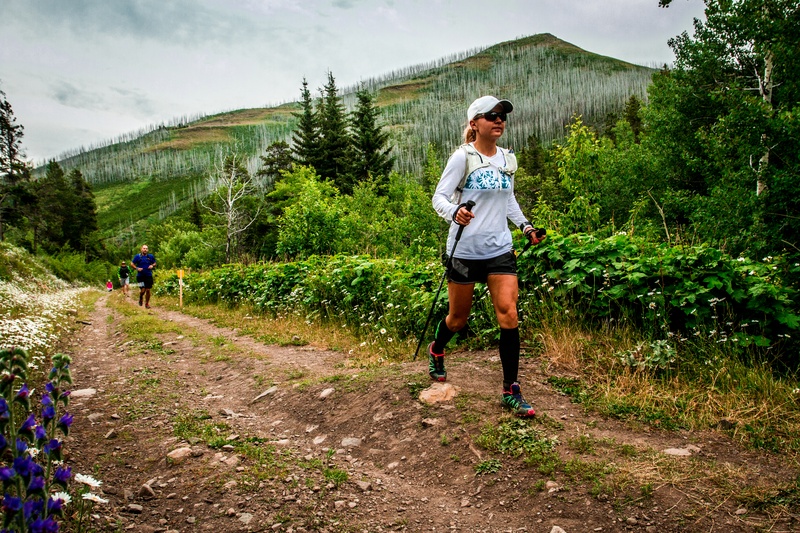 Categories: None

0

/